6-Siege Ash Edition Prescription Sunglasses
SELECT FRAME COLOR: Onyx
SELECT PRESCRIPTION LENS: Single Vision
SELECT A LENS TINT: Sun



6-Siege Ash Edition Prescription Sunglasses
THE SECRET WEAPON FOR 6 SIEGE OPERATIVES! It's all about teamwork and GUNNAR has your back! As an operator, you're no good if you can't perform your best. Equip yourself with 6-Siege, Ash Edition prescription sunglasses to stay sharp, alert and protected. Loadout, execute and win with GUNNAR!
KEY FEATURES
6-Siege, Ash Edition by GUNNAR are unisex prescription sunglasses designed exclusively from the Rainbow 6 Siege universe.
Authentic semi rimless Ash frame design allows for unobstructive wide format viewing so no detail is missed during the operation.
The branded experience comes complete with an exclusive Ash design microfiber cleaning cloth, pouch and unique glasses case.
Reduce dry eyes and glare and block 90% blue light and 100% UV while viewing digital devices outside!
Prescription Range: -3.5 to +3.5
A-fit/Standard Fit.
SPECS: lens width: 64 mm | nose: adjustable | frame width: 134 mm | temple: 126 mm | weight: 45.35 grams (without packaging)
INCLUDED WITH PURCHASE
Polycarbonate Lens Index 1.59
Premium AR Coating
Glasses Case
Microfiber Pouch
Microfiber Cleaning Cloth
12-month Warranty
What is GUNNAR Blue Light Filter™ (GBLF)?
Just how Sun Protection Factor (SPF) measures protection for the skin, the GBLF scale measures lens protection for the eye against artificial blue light. The higher the number, the better.
GUNNAR's 100% UV Protection coating also shields the eyes from harmful ultraviolet (UV) rays.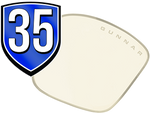 For discreet protection without the amber tint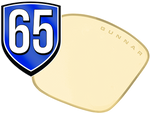 For optimal protection and performance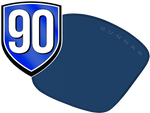 For protection from digital screens in sunlit environments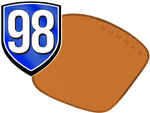 Max protection and improved sleep for nighttime screen use