SELECT FRAME COLOR: Onyx
SELECT A LENS TINT: Amber
SELECT LENS POWER: GUNNAR-Focus



FPS, Razer Edition
The FPS Razer Edition is the next iteration of superior gaming eyewear. Modern styling featuring traditional Razer coloring with its name boldly displayed on each side, the FPS is both lightweight and extremely comfortable. With adjustable nose pads, ultra sturdy steel frame, and soft thermoplastic rubber tipped temples for comfort and compatibility with Razer headsets, the FPS will be the reason you crush your opponents a whole lot more.
KEY FEATURES
Adjustable silicone nose pads provide a customizable fit
Soft thermoplastic rubber tipped temples grip lightly to ensure proper location of the optics without slippage
Stainless-steel frame construction generates proper strength, optical stability and flexibility
Flexible temples conform and ergonomically fit a wide range of head and face shapes
Lightweight construction and proper weight balance guarantee long wearing comfort without pressure points or fatigue
Wide format lenses create a panoramic viewing field for high resolution viewing
Proprietary patented GUNNAR lens material and tint
Blocks harmful blue light and 100% UV light
Ultra slim temples distribute headphone pressure to ensure headset compatibility
Asian Fit Compatible
Prescription Range: -4 to +6
SPECS: lens width: 57 mm | nose: 18 mm | frame width: 140 mm | temple: 138 mm | weight: 26 grams (without packaging)
INCLUDED WITH PURCHASE
Microfiber Pouch
Microfiber Cleaning Cloth
12-month Warranty
What is GUNNAR Blue Light Filter™ (GBLF)?
Just how Sun Protection Factor (SPF) measures protection for the skin, the GBLF scale measures lens protection for the eye against artificial blue light. The higher the number, the better.
GUNNAR's 100% UV Protection coating also shields the eyes from harmful ultraviolet (UV) rays.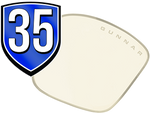 For discreet protection without the amber tint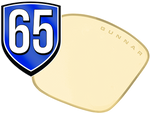 For optimal protection and performance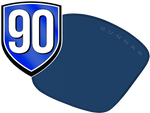 For protection from digital screens in sunlit environments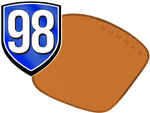 Max protection and improved sleep for nighttime screen use