SELECT FRAME COLOR: Crystal
SELECT PRESCRIPTION LENS: Single Vision
SELECT A LENS TINT: Amber



Rush Prescription
Introducing 'Rush', a fashionable new style of computer glasses designed specifically for kids and teens. With a durable round nylon frame, smudge resistant lens and elements of GUNNAR's patented lens technology, which blocks blue light, reduces glare and helps prevent dry eyes, your kid's eyes couldn't be in safer hands when using digital devices at school or home.
KEY FEATURES
Doctor recommended GUNNAR lens technology blocks harmful blue light and 100% UV light with two different tint options; Clear (blocks 35% blue light) and Amber (blocks 65% blue light).
Stylish and durable round nylon frame with hingeless design for more flexibility.
Lens includes anti-glare and smudge resistant coatings.
Glasses come with a premium GUNNAR Youth hard case with zipper and safety clip plus cleaning cloth.
Designed and built by GUNNAR – the experts in performance enhancing blue light computer and gaming glasses.
Prescription Range: -5 to +5.
A-fit/Standard Fit.
SPECS: lens width: 53 mm | nose: fixed | frame width: 130 mm | temple: 133 mm | weight: 19.5 grams (without packaging)
INCLUDED WITH PURCHASE
Polycarbonate Lens Index 1.59
Premium AR Coating
Glasses Case
Microfiber Pouch
Microfiber Cleaning Cloth
12-month Warranty
What is GUNNAR Blue Light Filter™ (GBLF)?
Just how Sun Protection Factor (SPF) measures protection for the skin, the GBLF scale measures lens protection for the eye against artificial blue light. The higher the number, the better.
GUNNAR's 100% UV Protection coating also shields the eyes from harmful ultraviolet (UV) rays.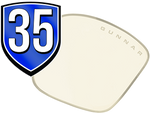 For discreet protection without the amber tint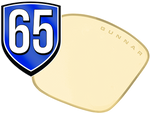 For optimal protection and performance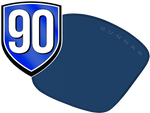 For protection from digital screens in sunlit environments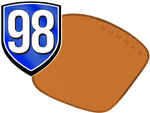 Max protection and improved sleep for nighttime screen use