SELECT FRAME COLOR: Onyx
SELECT A LENS TINT: Amber
SELECT LENS POWER: GUNNAR-Focus



Emissary
With squared off lenses for an angular look, the EMISSARY blue light blocking computer glasses are inspired by the past with an eye toward the future. Balanced spring hinges and adjustable floating nose pads provide a full comfort fit. A modern classic.
KEY FEATURES
One-piece front construction
Lightweight construction
Proper weight balance
European hand-crafted materials
Aluminum/Magnesium Alloy
Proprietary patented GUNNAR lens material and tint
Blocks harmful blue light and 100% UV light
Anti-reflective lens coatings on front and back of lens
Silicone hard coated lens to prevent scratching
Asian Fit Compatible
Prescription Range: -5 to +4
SPECS: lens width: 55 mm | nose: 18 mm | frame width: 128 mm | temple: 138 mm | weight: 18 grams (without packaging)
INCLUDED WITH PURCHASE
Microfiber Pouch
Microfiber Cleaning Cloth
24-month Warranty
What is GUNNAR Blue Light Filter™ (GBLF)?
Just how Sun Protection Factor (SPF) measures protection for the skin, the GBLF scale measures lens protection for the eye against artificial blue light. The higher the number, the better.
GUNNAR's 100% UV Protection coating also shields the eyes from harmful ultraviolet (UV) rays.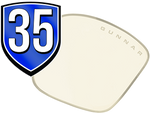 For discreet protection without the amber tint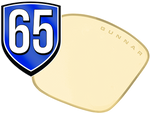 For optimal protection and performance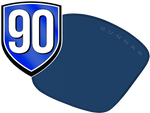 For protection from digital screens in sunlit environments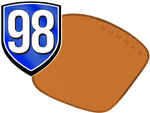 Max protection and improved sleep for nighttime screen use