SELECT FRAME COLOR: Onyx
SELECT A LENS TINT: Amber
SELECT LENS POWER: GUNNAR-Focus



Sheadog
Closed Circuit. The electricity flows fast in this slimmer silhouette frame. Reduced frame height delivers full coverage performance, and the SHEADOG ergonomically fits a wide range of face shapes. Low profile temples provide headset compatibility and long-haul ergonomics.
KEY FEATURES
One-piece front construction
Lightweight construction
Proper weight balance
Lightweight construction
Forged Stainless Steel Frame material
Proprietary patented GUNNAR lens material and tint
Blocks harmful blue light and 100% UV light
Anti-reflective lens coatings on front and back of lens
Silicone hard coated lens to prevent scratching
Asian Fit Compatible
Youth Fit
Prescription Range: -4 to +4
SPECS: lens width: 56 mm | nose: 18 mm | frame width: 130 mm | temple: 130 mm | weight: 16 grams (without packaging)
INCLUDED WITH PURCHASE
Microfiber Pouch
Microfiber Cleaning Cloth
12-month Warranty
What is GUNNAR Blue Light Filter™ (GBLF)?
Just how Sun Protection Factor (SPF) measures protection for the skin, the GBLF scale measures lens protection for the eye against artificial blue light. The higher the number, the better.
GUNNAR's 100% UV Protection coating also shields the eyes from harmful ultraviolet (UV) rays.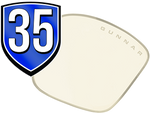 For discreet protection without the amber tint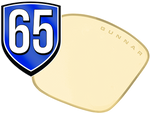 For optimal protection and performance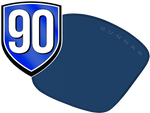 For protection from digital screens in sunlit environments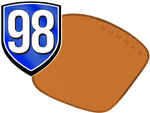 Max protection and improved sleep for nighttime screen use